Information Update on Candle Night Event Held in Timor-Leste
In front of Japanese Embassy Office  in Dili, Timor-Leste
March 11th, 2012 at 19.15 – 20.30
"From Timor-Leste with Love"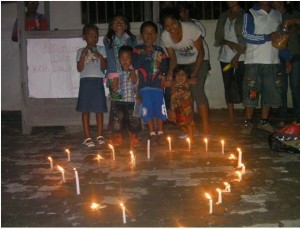 The university students, Kdadalak sulimutuk Institute (KSI) and Alter Trade Timor (ATT) staffs decided to join the candle night in Timor-Leste after getting the invitation letter from Daichi-Wo-Mamoru-Kai. Through the mutual  cooperation,  University students organized by Peace Center  sent a letter to the Japanese Ambassador for Timor-Leste in Dili,  asking his permission to hold the candle night event in front of the Japanese Embassy office. The good news came; the ambassador replied positively which allow students to organize the event as proposed s on Sunday, March 11, 2012.
It was raining on 11th of March, 2012 afternoon in Dili. The rain started at 2 Pm and continuously.  For those who planned to participate the candle night event were worried, it might be impossible to hold the candle night event under falling rains. Uka (ATT) who coordinating students, KSI, and ATT was too worried that it would be canceled because of the rain, or probably no one come.
As decided  before, 5 Pm the students would  gather at campus before going to Japanese embassy office at 6 Pm. Before 5 Pm, Some students texted to Uka that they couldn't join the event because of rain and difficult to access to public transportation. So, Uka went to the campus, kept thinking that she wouldn't find someone there. Then she realized that she was wrong, in fact, some students already there before 5 Pm and waiting there! She found 10 students were there.

Uka and students waiting for few minutes with hope of stopping rain and to get more involvement students and other friends. Then it happened, the rain stopped at 18.30 Pm, soon KSI staffs and their family confirmed that they were there at decided place already. Some students were also already there. ATT staffs and their family members were there and some are ready to be picked up to go to the same place as well. The students and Uka were becoming so excited that more people will join the event.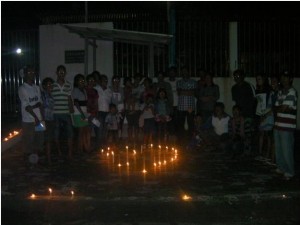 At 19.15 Pm, took place in front of Japan embassy in Dili 35 people were gathered there. Suddenly all gathering participants noted that, the embassy staffs also would join the event. 35 people were from university students, KSI staffs, ATT staff, and 2 Japanese embassy staff including 2 security of embassy. In total there were 39 participants joint the candle night.
Mr. Daniel Pereira initiated the event by given first floor to Mr. Naoki Nawa to share about current situation in Japan and his appreciation for the event. Then shared the candles among of attendants and lighted it collectively. All attendances lighted the candle in form of "heart symbol" to express the love from Timor-Leste to Japanese people. After lighting the candle the session proceeded into speech delivering. First speech was delivered by the embassy staffs also shared their though and appreciation to all participants, and shared the gift for participants as well.  Next speech from students who represented by Ms. Elia da Costa Araujo, she shared feeling of condolence and spirit of continue stand up for those who were victims of Tsunami and Earthquake in Japan. Followed by KSI, represented by Mr. Zulmiro who also shared solidarity message, though and reflection. He expressed that "on behalf of civil society organization, KSI really considered the tragedy of March 11 as a warning to all of human being to change the way of life. As a partner organization of ATJ, APLA and APF from Japan we would like to express our solidarity for all the victims. We do hope that the Japan government and civil society organizations learnt some new lessons from this tragedy, please work hard to heal all the traumas and to create good environment for the victims".
The next session was praying together leaded by Ms. Antonieta Maria dos Santos (Director of  KSI). All of us prayed for the souls of all death people to be rest in peace, and we also prayed to the remain family members and disable persons for those who have hope of  healing. May God bless Japanese people for better life to be part of international community and to be part of East Timorese reconstruction process.
After praying, all attendants went to the beach side to release the flower prepared by the students as a symbol to pay respect and prayers to those people that passed away. All attendants were standing up in one line, facing the ocean, and released the flower at the same time.
After flower was released all participants getting back to the front side of Japanese embassy office, sharing some snacks, having chips, and soft drinks. At the end of event Japanese embassy staffs impressed that the candle night was really impressive and hopefully it will be more then impressive by good coordination beforehand between organizers and Japanese embassy. The event ended around 20.30 Pm.
All attendants were impressed and having feeling of the tragedy of March 11 mixed with small smile and happy then going home.
For additional info, please find attached photos of candle night event.
In Solidarity,
From Timor-Leste with love!
Reported by:
Uka Pinto (ATT) in cooperation with Antonieta Maria dos Santos (KSI) and University Students.